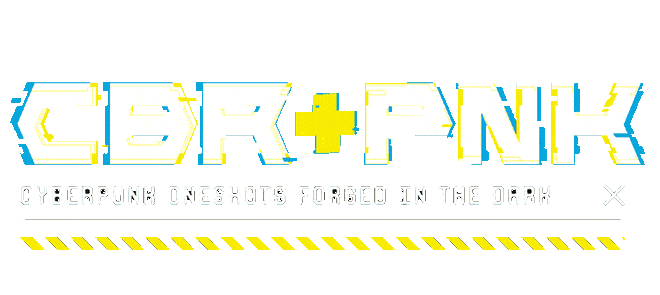 CBR+PNK [OLD EDITION]
Text-Only and Black Friday Bundle
---
H3110, runners!
I've just uploaded a PDF file with the text version of the game. This includes both pamphlets, all the rules. It is more like a reference guide, not suitable as a character sheet but still very handy for consulting. I tried to export an EPUB file as well but it came out with formatting problems, I hope the PDF is enough.
In other news, it is Creator's Day once again AND it is Black Friday, that means we are having a big bundle sale! The CYBER [WEEK] BUNDLE includes a diverse selection, all "cyber" related: from modules, to settings and even full, critically acclaimed games. I also tried to diversify about systems and playstyles - you have FKR, PbtA, Forged in the Dark, Belonging Outside Belonging, OSR-adjacent etc.
38 items from 33 creators, check them out!
Grab yours tomorrow during @itchio Creator's Day if you can, but the offer lasts until Dec 3rd.
Files
[EN] CBRPNK RPG Text-Only.pdf
120 kB
Nov 26, 2021
Get CBR+PNK [OLD EDITION]